Cum anul  acesta a fost scurt- spre foarte scurt la plimbari, Joe Bonamassa
,https://www.youtube.com/watch?v=8z74lr3txUk
nu intra la   categoria  *plimbare* el a fost  super surprisa  de ziua mea.[ Iar fac prostii, facand  bilant  ( ce obicei prost ) ] Si vad ca cele  foarte scurte erau de  fapt plimbari din living pe deck si-napoi , huh .
Aaa, a mai fost una , dar invers .Ne-au surprins copiii la  aniversarea de 70 a lui * old man* . Aia DA surprisa , dar tot nu intra la plimbari ( ale mele) , asa ca  am decis  sa ma plimb acum la sfarsit de an de la Paris la Brest pe  bicicleta . ( stiu , gata , m-ati si gasit Mita  Biciclista )
Da , nu-mi lipsesc ideile- daca in loc de doritul * Glacier Express*
am capatat o masina de spalat 9 – aia nu-i plimbare- poate doar a  rufelor 😦 – nu te  supara  frate- prinde  bine, dar… )
Deci cum va ziceam , plimbarea nu-i a mea , e  de multi ani  si-i history :
Idea asta a fost creata  in 1910 de pastry chef Louis Durand la cerinta organizatorilor  de cursa ciclista Paris- Brest . 🙂  Arata ca o  roata de bicicleta , umpluta nu cu air ci cu o crema de * sa te lingi pe degete 😉 ( ha, ha, ha ) Si cum nu vreau sa ma  plimb singura , va challenge, provoc ,la aceasta drumetie dulce caci,   afara  pe deck e frig acum in iarna sa ma tot fataii .
Generoasa din fire , va zic si cum , caci e simplu ca  bonjour. (Deja mintea mea e in Paris)
Nu avem nevoie decat de :
 Apa+ sare + unt se fierb pana la  disolvarea untului.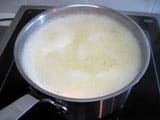 3) Cand fierbe adauga faina, toata, si amesteca  viguros -ca atunci cand urci la deal cu bicicleta.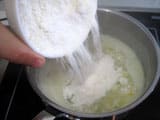 4) ia vasul de pe foc , continua sa  amesteci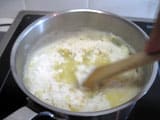 5) cu spatula de lemn , or  lingura, tot de lemn .
6) Ce rezulta se cheama *panda* ( nu ursuletul )
7) Lasa-l sa se  raceasca  vreo 5 minute , apoi incorporeaza oole , pe rand ( fara  coaja) si da la pedale , pardon , amesteca  viguros …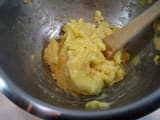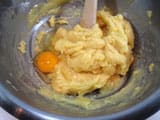 8) Pana  choux pastry ( asa-i zice la ei ,la Paris- eu ii zic shoo ca la oratanii) e gata  de folosit. Il pui in  conul de panza , daca n-ai, e buna si o  punghita de plastic la care-i  tai un colt, asa, cam de  1 cm.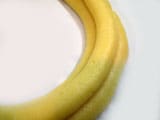 9 ) si-l aranjezi asa ,  cu  talent, fara  compas, doua cercuri concentrice si unul deasupra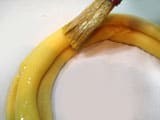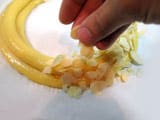 10) il ungi cu un galbenus pe care l-ai batut usor in prealabil ( N-ai prealabil??? nu te  cred )- si presari MIGDALE , nu amigdale, asa , usurel ( nu te teme ca se vor  razbuna si pe laturi )  care se  vor lipi de ou .
 Se coace 20 minute la 365 F.  (Google transformarea in C- e mai rapid) Cand arata ca mai sus,  lasi cauciucul la racit bine, apoi il tai  cu  maiestrie marita – pe diametru . E  usor , parol.
11) Acum  ne apucam de  air, pardon , umplutura   roatei : Se fierbe alta apa cu alt  zahar pana  ajungi la 121 grade C  ( google  invers din C in F ) dar un termometru e mai  bun. Nu-ti  baga degetul sa incerci tempereatura. Risti sa  ramai fara. Deget . Cand vezi ca face balonase, e gata ,. Pune ouale pentru crema in  mixer si usurel adauga acest  sirop mai gros, mixand usurel  sa nu-ti pui umplutura pe peretii bucatariei.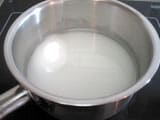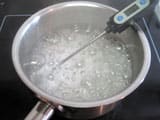 12) cand s-a racit , adaugi untul+ crema de  praline-hazelnut si-l incorporezi bine , apoi adaugi, albusul batut   spuma tare, doar prin miscari blande , neagitate , ca sa nu cada.
 Acum procedam  iar la maiestrie , adica punem crema  aceasta cu  conul-  in acest  sandwici si gata. daca  vreti sa-i dati un aspect  de iarna , il pudrati cu zahar si   suntem in Brest .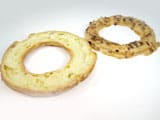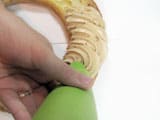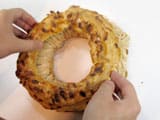 Sper sa-mi termin acest an  cu bine in  cursa aceasta Paris- Brest in forma dulce , in mintea mea  care-i in nori, dar ce nori 😉
 oops , am uitat principalul ( nu-i prima  data)  Aceste *chestii* va trebuiesc  daca  porniti cu mine  in cursa aceasta dulce.
Si cum toti stiu english,  pedalati  cu voiosie ( Nu more Google or  cozonac)
For the choux pastry:
250ml water
200g flour
100g unsalted butter
1 pinch of salt
4 whole eggs
For the praline crème au beurre:
8 egg yolks
250g sugar
250g unsalted butter, soft

Almond and hazelnut praline
For the finish:
100g 

flaked almonds

50g confectione sugar ( zahar  praf )
1 egg yolk
 siiiii
HAPPY NEW YEAR 2018 !